I can not believe we are already into February. It seems the older I get, the quicker time passes by. Is there a slow motion button somewhere I can push to make time slow down?
Anyway, on to the two great events I'd like to invite everyone to. The first is a blog hop that I will be participating in for Scrap Friendzy. It's this coming weekend and starts Friday night at 6:00 pm.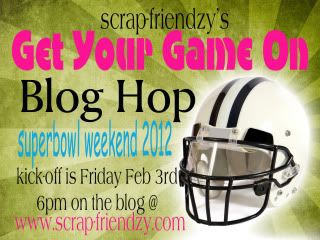 It's going to be a lot of fun so make sure you come play!
The second event is a non elimination contest we have this month at Cookin' Up Creations. It's called Crop Chef and it's going to be a blast. Each week you will be given two challenges (on Monday and Thursday) requiring you to use a certain "recipe".
I hope to see everyone participating in both of these fun-filled events.